Master Model Builder Weldon McDowell, Jr. has this to say about the new Son Powers album "Install Me":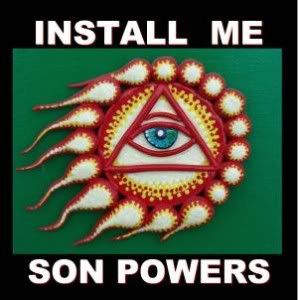 Son Powers "Install Me" CD
FOR IMMEDIATE RELEASE

PR Log (Press Release) – Mar 19, 2010 – "Install Me" by Son Powers slaps you upside your head with a bag of songs all written, composed, and performed by THE MAN himself with haunting bluesy vocals. Like me, Son Powers is a big fan of Ed "Big Daddy" Roth. As luck would have it, "Install Me" got me through some of the frustrations I encountered sweating over vintage model kits. "Life Is Sweet To Me" and "Sassy Girl" are two of my favorites and they keep this Finkster grooving while I'm wailing on the fantastic plastic!"

Weldon built his first Rat Fink model during the summer of 1963. More recently he was one of the Kustom Kulture artists asked to build and custom paint a promotional, 12" tall, Rat Fink for the premiere of the movie "Tales of the Rat Fink" in Austin, Texas. McDowell's resulting effort "'63 Old School Rat Fink" appears in the book "Rat Fink's Revenge" compiled by David Chodosh with Ken Morgan and Michael Polis. Other artists featured include Anthony Ausgang, Greg "Coop" Cooper, Dirty Donny, Jimmy Flintstone, Mark Mothersbaugh, Ed "Newt" Newton, Gary Panter, Savage Pencil, Kenny Scharf, The Pizz, and Keith Weesner. Weldon builds real hotrods as well, and his award winning orange El Camino appears in the book "Chevrolet El Camino Photo History Including GMC Sprint & Caballero" by Monty Montgomery and in Car Collector magazine. He is currently working with the Petersen Automotive Museum in Los Angeles building and painting all 12 of Ed "Big Daddy" Roth/Revell Fink kits for permanent display. Photos of this ongoing effort are posted at www.EdRothWorld.com.

Son Powers is a reclusive southern blues songwriter and occasional performer. An alumnus of the Jacksonville, Florida blues/rock power trio Worldwide Hoodoo, Powers' earlier bands include Crosscut Saw, King Bee, Parker Brothers, and Charles Atkins & The Blues Boys. The new album "Install Me" is available on CDBaby.com, eBay.com, and other music websites.

A witches' brew of tribal rhythms, fuzz bass, brooding vocals, and staccato piano, Son Powers has composed and recorded quirky observations ranging from mind control, to civic responsibility, to unlawful flight across state lines, to sexual braggadocio, to the 9-11 attack, to a child's first prayer. For more information visit

http://www.cdbaby.com/cd/SonPowers or

http://www.eclipserecording.com/store.html

# # #

Eclipse Recording Company has been North Florida's number 1 recording studio for almost 10 years. Jim Stafford is the owner and chief conspirator.