How many times have you seen all 12 of ED "Big Daddy" ROTH / Revell's Fink Models in one place? I've been a FINKSTER since 1963 and this is my first time. I spent the last several months building these for THE PETERSEN AUTOMOTIVE MUSEUM in Los Angeles, California ...and I've had a BLAST with them!!!

This 11" x 14" poster collage is professionally printed on heavy weight, gloss, photo paper …it's not some cheap, flimsy, desktop printer job. The 12 FINK monsters pictured on it are: Angel Fink, Brother Rat Fink on a Bike, DragNut, Fink Eliminator, Mother's Worry, Mr. Gasser, Outlaw with Robin Hood Fink, Rat Fink, Scuz Fink, Superfink, Surfink, and the ever elusive Tweedy Pie with Boss Fink. These twelve names are posted on 12 of the pictures indicating which ones they are for those that do not know. The pictures are sharp and clear.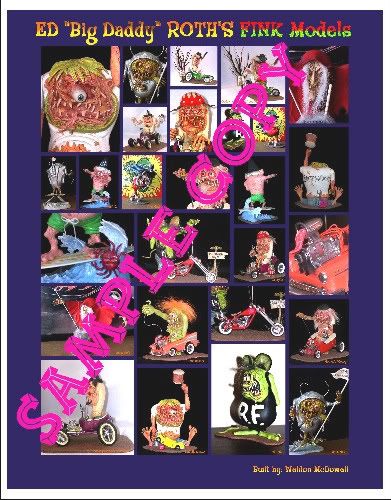 Poster is $8.95. + shipping. Shipping your poster in the USA will be sent to you at actual cost …nothing added. Mailing tube and First Class Mail Package and you'll get one of the NEATEST things you've ever seen and a MUST HAVE for your Rat Fink collection. International Shipping will of course be a bit more. Payment can be made with Money Order or PayPal and I can be contacted here at EdRothWorld by just replying to this post.